1/20 Tamiya
Ferrari F2001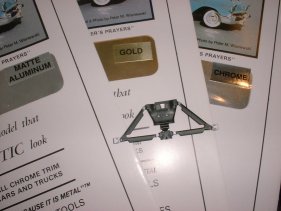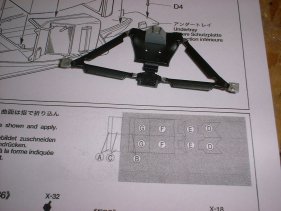 The bare metal foil turned up after a short wait, I will be using it for the heat shielding on the rear suspension components, I enlarged the template in the instruction to 116.5% in the photo copier.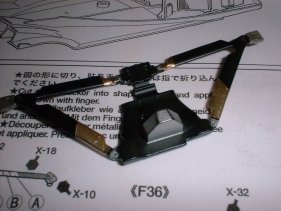 Man!!!, this is hard stuff to use I am very please that it should look wrinkled, It would of taken me all week to do it smoothly. Ether way I think it looks 100% better than the supplied foil that was too thick!.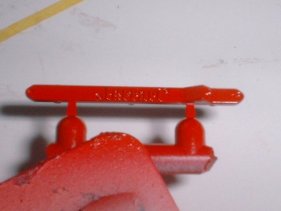 Something that seems to give fellow modellers problems is the engine logos, I have decided to try a new way. Step1, paint the engine
(cover) in the colour the lettering is (in this case white). Step2, paint the logo and the back ground in the correct colour. Step3, using very fine sand paper (#1500) lightly sand the top coat of paint on the letters down to the base colour. I'm very happy with the outcome.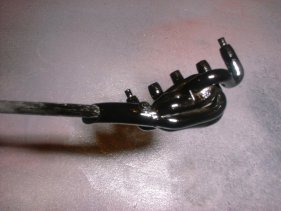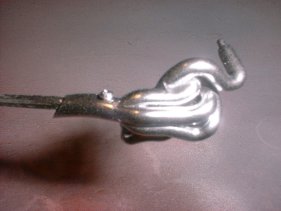 I'm at the point where I am making all different parts in no particular order. I'm on the exhaust now, they required very little preparation, I decides to put a censor on the end pipe, I used a 0.5mm brass pin and 2 small washers followed by 1 large washer and a medium nut on top. I then coated it in Alclad II chrome, I just need to whether it next.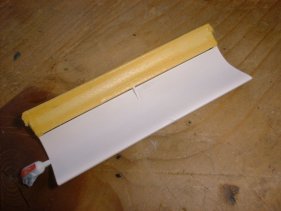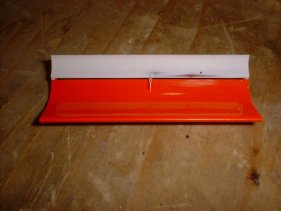 The kit gives decals for the white portions on the front and back wings, they are not that good, I masked the white parts before painting the red. I still need to paint the white area in gloss white and the some clear before the decals.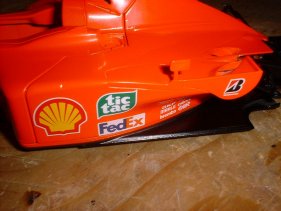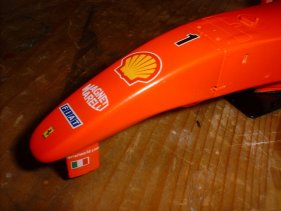 The tobacco decals should be here soon, now is a good time to put the other decals on. When I apply decals, I cut off all the carrier film and put them on separately, On the nose cone the 3 decals in the middle are as one, It has loads of carrier film that can silver around the edges, using a Sharpe X11 blade I cut round each logo and put them on one at a time. I spent 1 hour just on the nose and 2 on the rear cowling. The results are so much better but take 2 ore 3 times longer to do.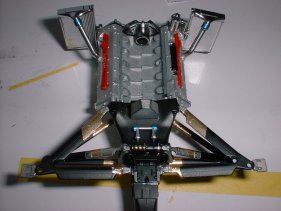 I have painted the air box, I was going to put some CF decals on I changed my mind and will go with the clean look like the side pods. The 2 small parts (left) go on the engine which is almost complete.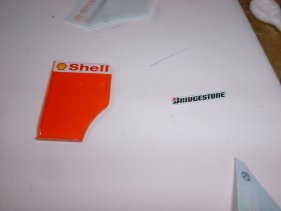 Sticking to the "trim all the carrier film routine" I made the wing take about 3 time longer than normal. I used the decal from the opposite side to align them in the right place.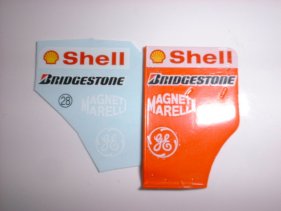 Like so!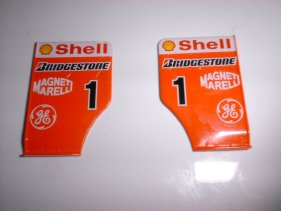 And here they are, the difference cant really be seen in the photo, but on close inspection it much better.
I was thinking about changing this car to Rubens No2 car, it would of been to much work. plus its for sale and I will make Rubens next :o)

All tobacco marking are not a form advertising they are there to represent a more exact scale model
Best viewed 1024 by 768 pixels Disclaimer
$table= "logezboo"; include ("write_logs.php3"); ?>