1/20 Tamiya
Mclaren MP4/13 (press and test)
I have decided to stop work on the main body my airbrush is not very good :o( im waiting for some parts so I will work on modeling starting with the engine work my airbrush will be fine on this kind of thing.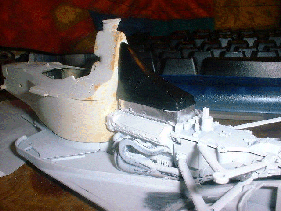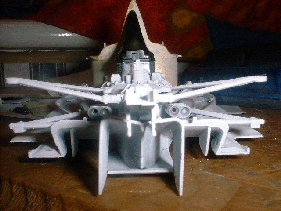 Its important to test fit the exhaust system to make sure they don't interfere with the suspension, I think they will be fine when they are fitted level.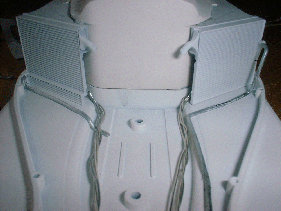 Here is the plumbing and wiring loom on the left picture, On the right I have made a connecting rod for the cam cover to the floor. I can go on forever about detailing this engine bay I will have loads more to do when the engine is complete.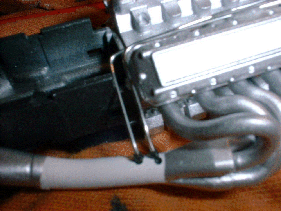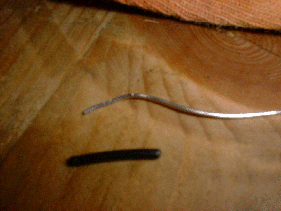 I have been working on the detailing while I wait for some parts to dry, on the left are exhaust sensors, to make them I used a wire from a telephone extension line ( I have a whole roll if it thanks nath ) and just striped it down and bend it to shape I then take some black plastic sleeve from another wire and glued it to the end to make it look like a connector. When the engine is ready I will paint and put all the wires on.
Note: I will put of a guide to how I make the wiring and connectors in the hints & Tips.
(13/08/2001) I don't know what im going to do with this model at the moment im still waiting for a pin for my airbrush.
Finely the engine is ready to go on the chasse, Black is mixed with clear coat 1:40 to tone down the shine as you can see on the right picture.
Once the Engine is fitted the brake rotors can be put on with the shock absorbers and any additional wiring
These are the two electronic box's that fit ether side of the air box I covered them with some carbon fiber decal and added the wiring in the same way as the exhaust sensors just used smaller wires this time.
(20/08/2001) I have got a new pin for my air brush I will start on the cockpit tonight.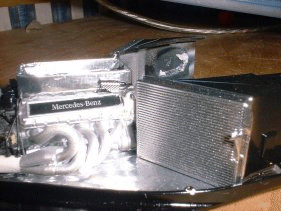 The two electronic box's are now mounted, I have chrome plated the radiators using aclade II chrome which came out satisfactory for me.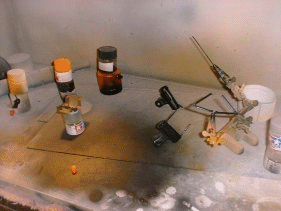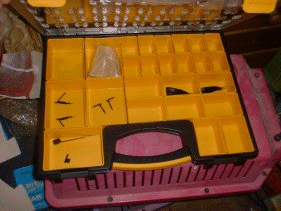 I have been painting all the left over parts semi gloss black, starting with sanding the flash off then wash them and paint. I keep all the small parts that's ready for painting in this box it keeps the dust off.

All tobacco marking are not a form advertising they are there to represent a more exact scale model
Best viewed 1024 by 768 pixels Disclaimer
$table= "logezboo"; include ("write_logs.php3"); ?>