Studio 27 1/20 Scale
Williams FW23 Monza G.P. Winner Montoya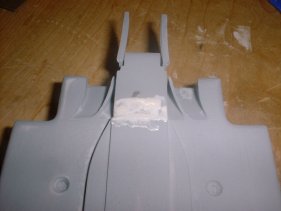 While the body was drying out, work was started on the floor pan I sprayed it with gray primer and sanded it down. I also filled the gap on the skid plank, "I don't know why it cant be seen".
Three coats of Semi Gloss Black and it was looking good, I still don't know weather I am going to use carbon fiber decals to cover it yet? Or should I concentrate on the blue and white colour scheme?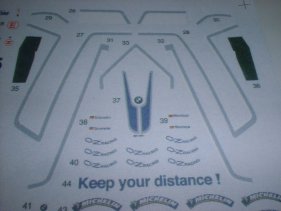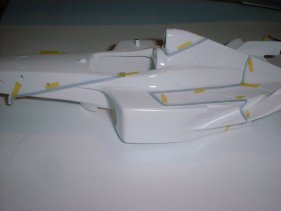 How do I mask for the decal on this car? First I copied the decal sheet and cut the gray boarder that goes around the blue paint, Then stuck it down onto the car in the correct place using masking tap.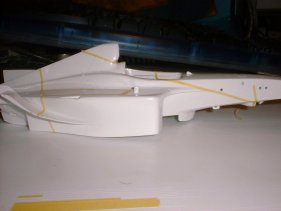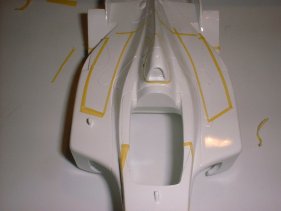 Once I was happy with it I ran masking tape along the decal line. ( remember the masking tape has to be under the decal in the end, to sort this out I ran masking tape along the decal then removed the decal, then run some more masking tape next to the old masking tape, so its under where the decal was, once that's done the old masking tape can be removed and the tape that's left, is under where the decal goes.
I hope that makes sense.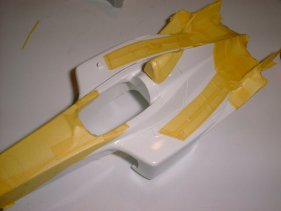 It should look something like this!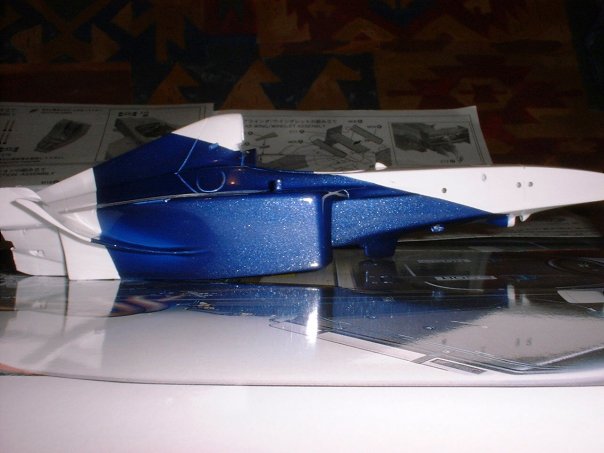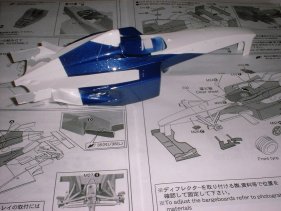 Something that I was having trouble with, was a suitable blue I tried Regatta Blue it looked good at first until I tested it out and it was a perfect match to the old Williams cars of the 80's early 90's, I will have to save that then. Then a friend "Dan" told me Renault Electric Blue, I went to the shop and thought it looked to dark, I chose a lighter blue it was the worse blue i could of got way too light. Back to the shop to get what Dan said, and he was right I should done what he told me I would of saved £5.
I don't know what you people think but from my reverence pictures its close dark with a bit of metallic in it. The picture seem to be darker than when it was on telly but its close to the decals and box it came in.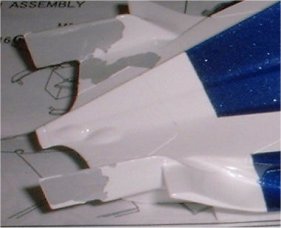 And now it's time to see what I have broken this time. On every kit I do I brake something and this time it's the rear fins, when I was masking for the blue paint I dropped it and cracked the paint, I will sand it down and paint the white again shouldn't be to hard, I hope!

All tobacco marking are not a form advertising they are there to represent a more exact scale model
Best viewed 1024 by 768 pixels Disclaimer
$table= "logezboo"; include ("write_logs.php3"); ?>