1/24 Tamiya
Peugeot 206 WRC 2000
It's time for me to try something other than F1, and its the 206 WRC, with Renaissance Transkit with open doors. It comes with 34 detail parts and some other goodies to play with!
To start with, I need to find out how the doors will fit, I will go in to detail with this! The instructions say to cut out the doors and insert the 2 door surrounds. Problem 1, you can't see in the car any more than with the doors shut, because Parts A7 and A8 ( roll cage) are in the way along with parts C30 and C29 (door cards).
Step 1 Fitting doors.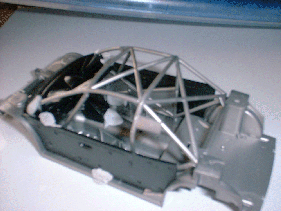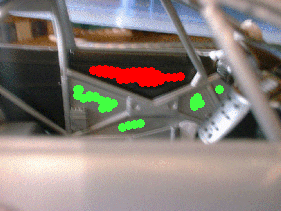 To start with I pre assembled the roll cage and the door cards, to see how things looked, The red area, is the parts of the door card that needs to be removed, the problem is it goes across the rear panel as will it need to be cut!
The green area is the roll cage in standard form. I don't know why they made it like this, it needs to be cut out and sanded!
Cutting the roll cage.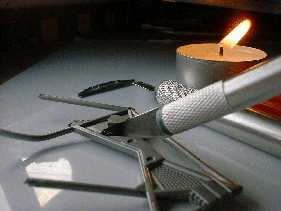 I have started cutting the roll cage, using a hobby knife warmed over a candle, ( TIP cut 1 or 2mm in side the line or it will melt the bit you want! sand the rest) I removed the electrical box and the wire mesh I will scratch build them.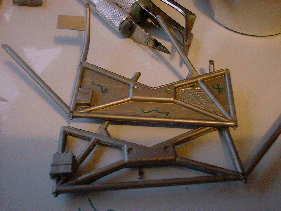 Above its easy to see what's been removed, Much better! It will be cleaned up when I know it all fits correctly.
Cutting out the doors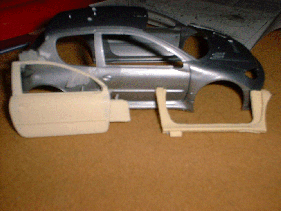 Like on the roll cage! I cut the doors the same way, and sanded the rough edges down to the line. The resin door fits in the gap like a glove :o)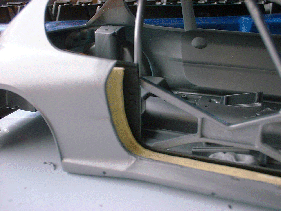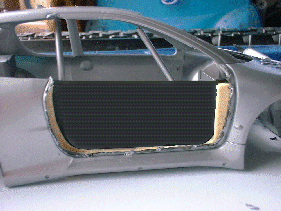 Nice!
It's looking good so far! On the left is how it fits now, some filling is needed. On the right is how it would look when its made to how the instructions say, You can't see inside the cockpit anymore than with the doors on.
It all fits well! Some shaving is needed under the door surrounds, so the body fit correctly. I will start the other side now!
The body don't fit!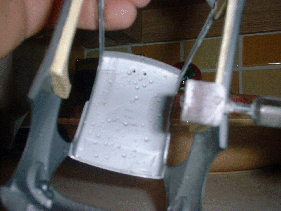 Because the body don't fit properly now, I just shaved about 3mm from under the door sills.
warning Use a dusk mask when sanding with a rotary tool or you will do harm to your lungs!

All tobacco marking are not a form advertising they are there to represent a more exact scale model
Best viewed 1024 by 768 pixels Disclaimer
$table= "logezboo"; include ("write_logs.php3"); ?>