1/20 Tamiya
Ferrari F2001
On the lower wing I applied clear to cover up the carrier film from the decals.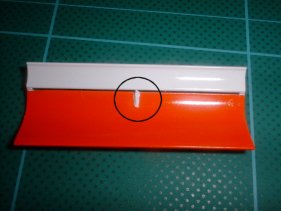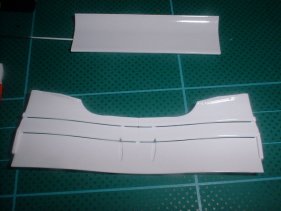 I finally got around to painting gloss white (X-2) to the front and rear wings, The rear wing has been masked for a good 3 weeks and the paint ran onto the red paint (black circle), It shouldn't be a problem with a bit of light sanding (#3500).
At the same time I cleared a Tameo1/43rd and it was awful I have never had "orange peal" like it, I put it down to some sort of dodgy mix I made for some reason. 20ml of clear coat is now in the bin. Plenty of polishing for me to do tonight :o/
And for some good news, I had a go at doing something with the exhaust other than just paint in one colour, I am more than pleased with the results. To paint the exhaust, Aclad II Chrome was used all over, then I fitted a fine tip on the airbrush, I set it so a tiny bit of spray would come out without pulling back the trigger. next I gave a thin coat of (X-27) Clear Red at the HOT points like on the bends and the joins. Then I did the same with (X-26) Clear Orange but I did it a little more heavy. (X-23) Clear Blue was VERY LIGHTLY sprayed at the tips of the bends and the joins I didn't want to use to much blue in case it looked over the top. Last I gave a gentle coat of (X-19) Smoke over the top.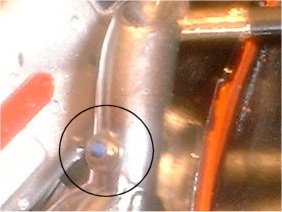 A close up of the exhaust temperature censor, I used F1 specialties PE nuts and washers set they are very good.
Time for some detailing.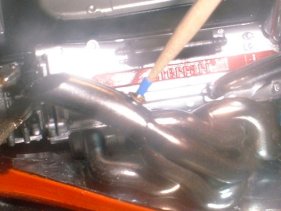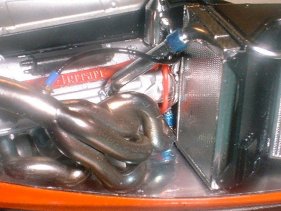 On the left I inserted a blue tube over the censor and used a cocktail stick to open the hole so that I could fit the black wire in side. I also fitted a red pipe next to the radiator
.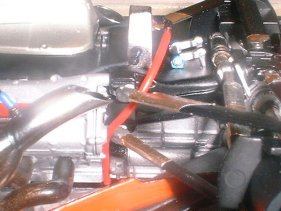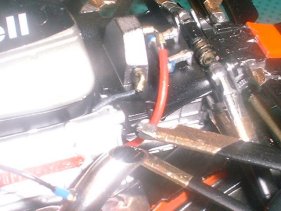 At the back of the air box is what I think is an oil feed or return unit!? I made up some oil pipes using some right angle hose connectors, It seemed to do the job.

All tobacco marking are not a form advertising they are there to represent a more exact scale model
Best viewed 1024 by 768 pixels Disclaimer
$table= "logezboo"; include ("write_logs.php3"); ?>